It's March Madness season! No brackets to be filled out for College Basketball, but there are many other brackets to be filled out that embrace debate. Barstool Sports recently released the "Best Sit-Down Chain Restaurant Bracket". I took it upon myself to give the people what they want. Hot takes on the best sit-down chain restaurant. Now please note, I have not been to 37 of the 62 restaurants.
Sweet Sixteen
Welcome To Chili's Region
Cici's Pizza #9 seed. Cici's had a big upset over the #1 seed. Never sleep on the Mac and Cheese pizza.
Yard House #4 seed. *I have never been to this place*
Perkins #11 seed. Honestly Tiger Woods' history influenced Perkins lasting this far.
P.J. Changs #2 seed. This place is incredible. Honestly no other words to describe it.
Wine and Dine Region
Bob Evans #9 seed. Typically for older people, but Bob Evans is the five-tool player on your team that will get you the win.
TGI Friday's #5 seed. TGI Friday's made it to the Sweet Sixteen strictly off their TV dinners.
Buffalo Wild Wings #3 seed. The fact that BW3 is a 3 seed is an absolute slap in the face. Their slogan is "Wings, Beer, Sports", that alone should earn you the 1 seed.
Olive Garden #2 seed. Fettuccine Alfredo, breadsticks, soup, salad, sangria, sheeesh. Great restaurant that is tough to beat.
Large Menu Region
Denny's #8 seed. Denny's had an easy path to the sweet sixteen when #1 seed Cheesecake Factory lost to Hard Rock Cafe in the first round. Listen, I've never been to the Cheesecake Factory and when I think of Hard Rock Cafe, I think of Florida, warm weather and good times. This was the equivalent of UMBC beating Virginia. Pure domination.
Benihana #4 seed. *I have never been to this place*
Cracker Barrel #6 seed. Cracker Barrel is going to go on a run like you have never seen before. I am a massive breakfast food guy. So not only does Crack Barrel check that box, but they also have great lunch and dinner.
Outback Steakhouse #2 seed. Outback rightfully earned the 2 seed. The Bloomin Onion is no joke. That's honestly all I know about Outback.
Cinnamon Butter Region
Hooters #8 seed. Hooters is a fantastic establishment that every 13 year old boy goes to for his birthday.
Applebees #5 seed. Here is a hot take for everyone. I do not like Applebees. Overpriced, not that great food, people go crazy for their discounted food/drink happy hours. It's not good! Let's take a chill pill on the $30.00 for one person Applebees.
IHOP #3 seed. Pancakes >any of the crap places IHOP went against.
Waffle House #2 seed. Cheese eggs, grits, raisin toast and a waffle for the table. It is an undefeated order in the food industry.
Sweet Sixteen
#9 Cici's Pizza defeated #4 Yard House. Easy decision for me since I have never had Yard House.
#2 P.F. Changs defeated #11 Perkins. Tiger Woods' mistresses can only take Perkins so far.
#9 Bob Evans defeated #5 TGI Friday's. Bob Evans wholesome food picks up the easy win over freezer food TGI Friday's.
#3 Buffalo Wild Wings defeated #2 Olive Garden. Again "Wings, Beer, Sports" any day over unlimited breadsticks.
#8 Denny's defeated #4 Benihana. Never been to Benihana, but also take into consideration Jesse Pinkman from Breaking Bad always going to Denny's.
#6 Cracker Barrel defeated #2 Outback Steakhouse. Not a huge fan of Outback, Cracker Barrel has everything. Don't sleep on the triangle peg game at every table.
#8 Hooters defeated #5 Applebees. The overhyped Applebees lost to Gruden's second home.
#2 Waffle House defeated #3 IHOP. Battle of the Breakfast Joints. Waffles > Pancakes.
Elite Eight
#9 Cici's Pizza defeated #2 P.F. Changs. Cici's Pizza making a massive run. At this point, it may just be a nostalgia thing. We do not have Cici's Pizza in our area anymore and it used to be the GOAT.
#3 Buffalo Wild Wings defeated #9 Bob Evans. Down goes the underdog run that Bob Evans was on. Not having sports or beer really took down the old person's paradise.
#6 Cracker Barrel defeated #8 Denny's. Adios Denny's!!! Cracker Barrel gift shop alone takes out Denny's.
#2 Waffle House defeated #8 Hooters. Hooters had it's run of upsets and shocking victories. In the end, breakfast prevails.
Final Four
#3 Buffalo Wild Wings defeated #9 Cici's Pizza. Mac and Cheese pizza can only take you so far.
#6 Cracker Barrel defeated #2 Waffle House. In our second battle of the breakfast joints, the underdog gets the upper hand. Possible reason for the upset, the individual syrup bottles Cracker Barrel gives you.

Championship
#6 Cracker Barrel defeated #3 Buffalo Wild Wings. What a match up. What a bracket. Cracker Barrel just couldn't be defeated. The food is extraordinaire, you have the gift shop, the rocking chairs while you're waiting, the table game to play, the options are just endless at Cracker Barrel.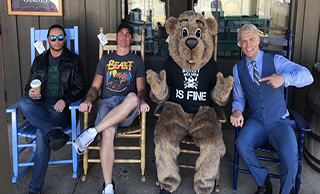 Thanks for reading my Life Takes Blog! For making it this far, go out and buy a meal at Cracker Barrel to support them during COVID-19 crisis. Let me know in the comments below who you would have win.