Sike…. Yes, if you are pro-life and you watched the Lions Pre-Season game on Thursday Night, you did in fact watch a live abortion take place in Ford Field, Detroit, Michigan. But, after taking a couple of days to reflect, I am not afraid of this 2019 season.
I remember a time when the Lions went 4-0 in the pre-season. We thought we were going to the Super Bowl that year (honestly, I don't remember a time when the fandom was so excited (besides when we went to the playoffs)). The year before, we started off hot – 5-2 if I remember correctly, then down the stretch we blew up, and ended the season 7-9. The year after, we went undefeated in the preseason, it was 2008 and we ended up going 0-16 in the regular season.
For some reason the Detroit sports media landscape is full of Negative Nancy's. They love to talk shit about our teams, players, coaches and owners.
Well, I've been saying since I don't know when that "this is our year" and I'll die on that hill, because one day statistically speaking it will in fact be "our year".
Thursday Night, we may have lost. But, our QB was Tom Savage who didn't play awful, but definitely has CTE after getting whipped to the ground like a rag doll that lead to a concussion he probably definitely suffered in the 1st Quarter. His backup, Fales didn't play well at all with a pick or two.
Most of our starters didn't play (or play long) Thursday. If we played like this with all of our starters then I may be worried. It's also pre season football. We can take this loss and learn a TON from it. It is better for the team to lose like this to the Super Bowl Champs, then to beat them and rest on laurels. Believe IT!
Just look at our fearless leader, suffered an ankle injury but wanted to be on the field with his men.
Since William Clay Ford passed away in 2014 (RIP in peace), we have had a complete overhaul in the front office. I give MFF, Martha Firestone Ford, all the credit. Yes, people make fun of us for taking the Patriot's players and front office personnel. In 2016, we hired Bob Quinn from the Patriots who helped build a dynasty with them as a Scout – " Quinn joined the New England Patriots in 2000 as a player personnel assistant, spending two seasons in that position. He spent another two seasons as a pro scout, four seasons as a regional scout, and one season as a national scout before being promoted to assistant director of pro personnel in 2009.[8]Quinn was promoted to Director of Pro Scouting in May 2012.[9] " – Bob Quinn's Wikipedia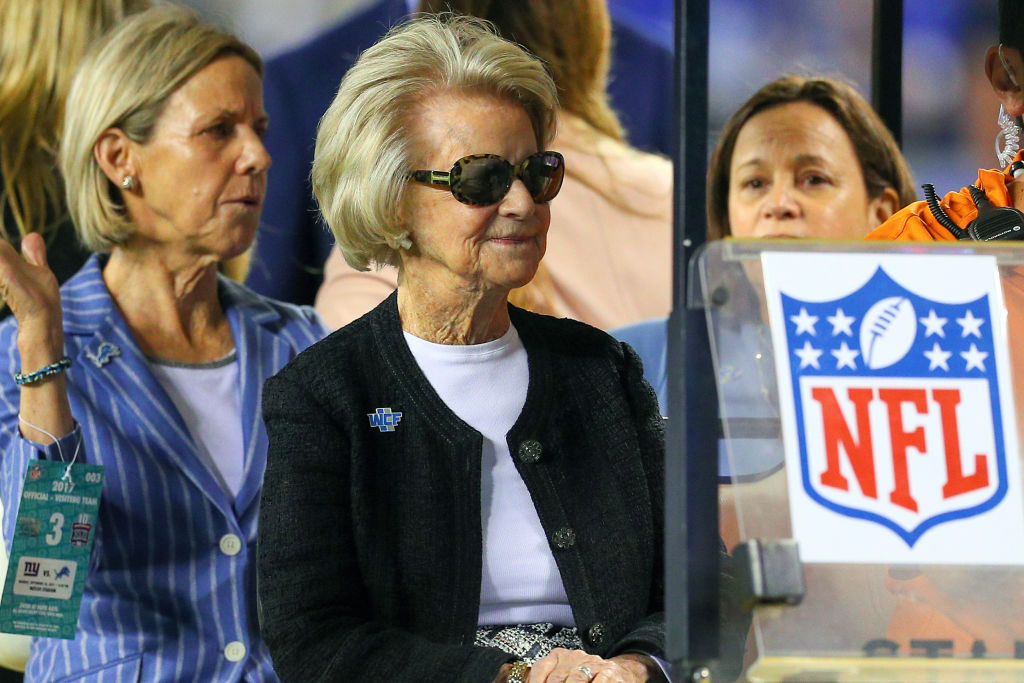 Since 2016, the Lions have been overhauling the team. We made the playoffs in Quinn's first season and since then we have missed the playoffs. Last season he hired Patricia who for some reason – people don't like him. I don't get it. He is a football guy, he worked for years with THE Bill Belichick. We're going into year 2 and people are already at this guy's neck. Not me, I'm not here for the slander. Look at the above picture, this dude wants to win and he wants to win in Detroit. You don't turn around a franchise that has not won anything since 1957 in 3 years (for Quinn) or 1 year (for Patricia), it takes time.
I'm happy with Martha Firestone Ford hirining Quinn to bring the fabled "Patriot Way" to the Motor City. My advice to everyone, is it takes time and to be patient. On another note, I'm willing to bet money that when Martha Firestone and William Clay Ford married June 21, 1947 that it was a trade deal to have Firestone be the official tire of the Ford Motor Company. Like her dad and his dad had a medieval backroom deal? That's how I imagine it went down.
Anyways, I might be delusional. But I don't think I am when I say, I genuinely think we have a chance this season. I have a bet with more than a few people that the Lions will win the NFC North and I stand by those bets.